0-2240 KT – RECYCLED PET PEN switch K transparent
Twist ballpoint pen made from recycled rPET in solid shiny housing colors with transparent shiny clip. Due to the special nature of the material (recycled PET material) production-related variations are possible. The rPET, which is produced in europe, are suitable for a durable and sustainable advertisement. The uma RECYCELED PET PEN protect our environment due to the European production and the long-writing uma Jumbo refill. From 2,000 pieces, the model can be combined in color.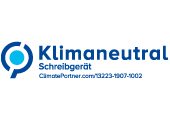 Related products and special recommendations
Would you like more information?
Simply send us a short note, and we shall contact you !
Please use our Contact Form for inquiries, remarks and ideas.
Please note that the boxes marked with an asterisk (*) must be filled in to enable us to process your input properly.